When it comes to securing your property and enhancing its curb appeal, nothing beats the durability and style of premium aluminium driveway gates. In this article, we will explore the numerous advantages of aluminium gates and fences, the installation process, and how they can enhance the security and aesthetics of your property. As a leading manufacturer of aluminium gates, we take pride in offering a wide range of options that are not only reliable and durable but also stylish and environmentally friendly.
Why Aluminium Driveway Gates?
Aluminium driveway gates are the ideal choice for enhancing the security and aesthetics of your property. Made from high-grade aluminum alloy, these gates are resistant to rust, corrosion, and cracking, ensuring long-lasting performance with minimal maintenance. The lightweight nature of aluminium makes installation easier and more efficient compared to heavier materials like steel or wrought iron. Additionally, aluminium gates are available in various styles, sizes, and colors, allowing you to customize them to match your property's unique style.
Residential and Commercial Driveway Gates
Our premium aluminium driveway gates are suitable for both residential and commercial properties. Whether you need to secure your private residence or a commercial establishment, our gates are designed to provide a perfect fit for any entrance. With options such as single or double gates, different grades of aluminium, and various decorative styles, you can find the ideal gate to meet your specific requirements. Our gates come with factory-installed hinges, locks, and hardware for convenient and secure operation.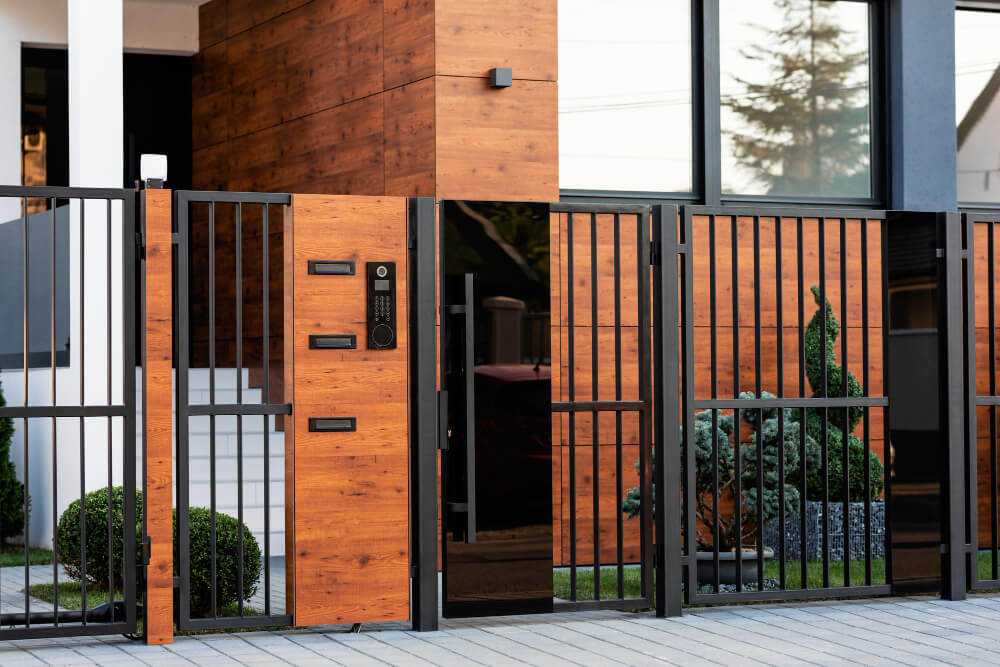 How to Install Driveway Gates?
Installing our aluminium driveway gates is a breeze, thanks to their lightweight construction and user-friendly design. Our gates are individually manufactured to your specifications and are delivered directly to your property. Our team can provide detailed installation instructions, or you can opt for professional installation services in your area. With our easy-to-follow guidelines and efficient gate design, you can have your new gate installed in no time, ensuring enhanced security and style for your property.
Aluminium Fencing
To further enhance the security and aesthetics of your property, we also offer premium aluminium fencing. Constructed from the same durable and lightweight aluminium alloy, our fencing panels provide a sleek and stylish solution. The powder-coated finish ensures long-lasting color and resistance to environmental elements, while the horizontal rail design adds a modern touch. Our aluminium fencing is available in a range of heights, styles, and colors, allowing you to create a cohesive and visually appealing perimeter.
FAQs:
Why choose Gate Crafters 6061 – T6 Grade Aluminium?
Gate Crafters utilizes 6061 – T6 Grade Aluminum for its driveway gates and fences due to its exceptional strength, durability, and corrosion resistance. This high-quality aluminum alloy is known for its ability to withstand harsh weather conditions, ensuring that your gate will maintain its structural integrity for years to come.
Why choose aluminium for driveway gates?
Aluminium is an ideal material for driveway gates due to its numerous advantages. Firstly, aluminium is lightweight yet incredibly strong, making it easy to handle during installation while providing a reliable and secure barrier. Additionally, aluminium is resistant to rust and corrosion, ensuring that your gate will maintain its pristine appearance without the need for constant maintenance or repainting. Its durability and longevity make it a cost-effective choice for homeowners and businesses alike.
Conclusion
Upgrade your property's security and style with premium aluminium driveway gates and fencing. Our reliable and durable gates are not only easy to install but also designed to withstand harsh weather conditions and provide long-term performance. With our wide range of customizable options, you can choose the perfect gate and fencing solution to suit your property's unique style and requirements. As a leading manufacturer of aluminum gates, we take pride in delivering superior products that enhance the aesthetics and security of residential and commercial properties nationwide. Contact us today to request a free shipping quote and take the first step towards enhancing your property with our premium aluminum gates and fencing.